---
Daily real PE at home guidance
The daily and weekly activity timetable is now live and the first thing you see when you log in to real PE at home. This offers guidance and suggestions on how families might like to arrange their activities each day. Of course, they can choose to explore and go on their own adventure!
Early Years Foundation Stage (3-5 years old) / Key Stage 1 (5-7 years old)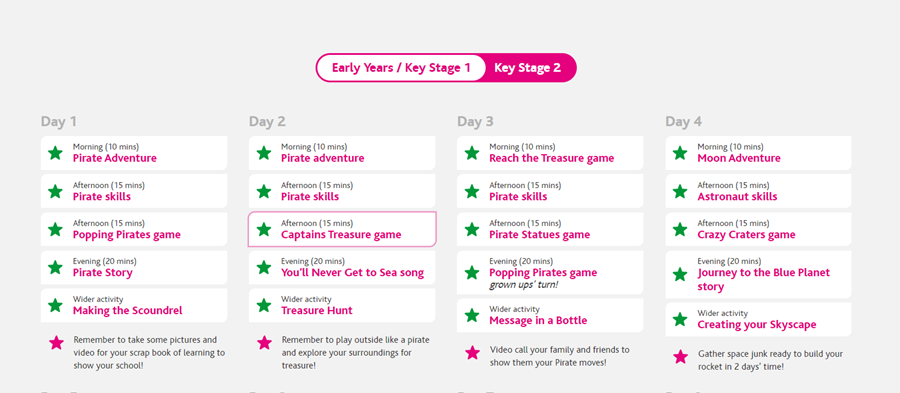 Key Stage 2 (7-11 years old)
Top tips for families
> Keep watching the main guidance video that appears on the dashboard when you log in. We will change this weekly. Coming soon…daily introduction videos.
> View the daily activity timetable for guidance on what activities and games you could do each day. Simply click on the activity to take you straight there.
> Go on your own adventure and revisit your favourite themes and activities!
> Follow us on Twitter, Facebook and Instagram to keep up to date with all the latest developments.
> Join the community and follow our Facebook group for more advice: real PE at home – tips & ideas.
> Enter the weekly competitions for your chance to win great prizes.
Competition time
Families can now enter our first weekly real PE at home competition for their chance to win fun family prizes. Here are this week's categories:

3 – 7 year olds
Post a photograph or short video (60 seconds max) showing a game you've played where you've been brave on your Pirate or Space adventure. Perhaps you found something difficult but kept trying?
7 – 11 year olds
Post a photograph or short video (60 seconds max) showing how you've developed your personal skills in the Matching Pairs or Rock, Paper, Scissors game. Maybe you deliberately challenged yourself?
1st prize: real play Home Pack
2nd prize: Physical Activity Board Game
3rd prize: Set of 12 Active Story Books
This competition is taking place across our social media pages. Follow us for more details and please make sure you tag us in your entries:
Use the hashtags #realPEathome and #homelearning
---
Please see below some useful PE links & Resources for both the classroom as well as at Home for your children.
| | | | |
| --- | --- | --- | --- |
| Programme/ Website | Age range | Type of activity | Description |
| | 5-11 | Home activities | Great home activities needing little equipment and space |
| | 5-11 | Home activities | |
| | 5-11 | Classroom activities | Create short easy dance routines including music. |
| | 5-11 | Home activities | Collation of ideas (dance, fitness, yoga) |
| Ways to keep active indoors | 5-11 | Home activities | List of home activities |
| | All | Home/classroom activities | range of subject resources for all ages |
Dan the Skipping Man
Dan the Skipping Man® works across schools to boost physical activity, develop resilience, perseverance and creativity for all. We normally offer children in schools a simple form of creative fitness to get themselves active and enjoying themselves in a form of fitness that is simple to access, easy to do and can be done indoors or outside. A number of links are below but we have 60+ videos on our Youtube channel www.youtube.com/dantheskippingman and have a number of playlists broken down into series, here is a sample,
1) Dan the Skipping Man® #ICANSKIP – Starter skipper – https://www.youtube.com/playlist?list=PLDsXDaeQfmG_X-h27EbQGxKG3YDFbjVGD
Simple Skipper – https://www.youtube.com/playlist?list=PLDsXDaeQfmG_26SpkUgmdNZF5rOMnirX8
Super Skipper – https://www.youtube.com/playlist?list=PLDsXDaeQfmG_t6sAKL2mkp8Fys6zpe9YG
Dan the Skipping Man® #ICANSKIP is a series of skills to grow and develop the quality of a skipper from beginner upwards, with techniques to get started then building to more complex work.
2) Dan the Skipping Man® #Skip5 – https://www.youtube.com/playlist?list=PLDsXDaeQfmG9oiU_43VK-od1C5u_QGbBe
Skip 5 is a 5 minute work out which can be done almost anywhere.
3) Dan the Skipping Man® trials https://www.youtube.com/playlist?list=PLDsXDaeQfmG-8CQtJca-roZyXlNdg-0lC
Dan the Skipping Man® trials are a few simple trial ideas to build on to give people ways of testing themselves.
Ready Set Ride resources
The Youth Sport Trust have been commissioned by British Cycling and HSBC UK to design resources to help children to learn to ride. Using an activity pack, online video resources and app, parents, teachers and carers are supported to teach children the essential skills needed to ride a bike while having fun playing together.
Click here for three free resources. Additional resources can be accessed by creating a free account.
Primary & Secondary Resources
Play Format videos
Our 'Play Formats' have been designed to encourage more active play and support children to engage informally in activity before accessing more formal sport specific variations.
Click here for YouTube playlist
Personal Challenge videos
It is the mission of the School Games to provide 'more young people with the opportunity to compete and achieve their Personal Best'. This includes competing against oneself and others to improve personal performance with a focus on the process rather than the outcome (on the learning and values development of the young person rather than just the result). For some inspiration, watch some personal challenges created by young people, have a go yourself, or create your own.
Click here for YouTube playlist
Inclusion 2020 activities
Taken from our 'Inclusion 2020' project which has seen 50 primary, secondary and special schools across England organise inclusive countrywide 'Learning and Discovery' sport festivals. At the events, 3,000 pupils of all abilities have been experiencing a variety of Para sports and get the opportunity to compete. In this document (page 11 onwards) there's a wide range of inclusive formats to utilise.
I hope you find them useful! Have a great day!